February 2019
Towards a Common Food Policy for the EU
This report argues for a Common Food Policy for the European Union: a policy setting a direction of travel for the whole food system, bringing together the various sectoral policies that affect food production, processing, distribution, and consumption, and refocusing all actions on the transition to sustainability.
December 2019
Client Earth: EU Soil Framework Directive
ClientEarth's legal analysis of IPES-Food's proposal for an EU Soil Framework Directive recommended in "Towards a Common Food Policy for the European Union."
Read the legal brief (EN)
May 2019
33 organizations call for EU food policy and Vice President for Food
Read the open letter to the spitzenkandidaten
February 2022
Climate change puts increasing pressure on food production, finds IPCC
Euractiv
February 2022
OPINION | UA – UE : une autre agriculture est possible
Jeune Afrique
February 2022
OPINION | Can Africa and the EU join forces to boost sustainable farming?
Reuters
October 2020
EU net-zero aim 'in tatters' as lawmakers fail to shift farm rules, critics charge
REUTERS
March 2019
Steun die dikmakende suikerbiet niet
NRC | Olivier De Schutter, Emile Frison, Joost De Jong
March 2019
A Set Menu for Europe? Building a Food Policy that Brings Everybody to the Same Table
Food Tank | Alexandra Popescu
February 2019
Fixing food systems in 80 steps: time for a Common Food Policy for the EU
EPHA | Nicholas Jacobs
February 2019
La revolución alimentaria que necesita Europa
El Pais | Gonzalo Fanjul
February 2019
Immoral food conventions: Time to cut food giants' toxic power
Irish Examiner
February 2019
Hundreds of EU stakeholders call for a 'common food policy'
Euractiv | Claire Stam
February 2019
"Il n'est pas cohérent de prétendre vouloir soutenir la relocalisation de l'alimentation, et de s'entêter à conclure des accords de libre-échange"
La Libre | GILLES TOUSSAINT
February 2019
Una Politica alimentare comune per la riforma agricola dell'Europa
Il Sole 24 Ore | Elena Comelli
February 2019
Proponen poner fin a la "antigua PAC" para crear una Política Alimentaria Común en la Unión Europea
AGROINFORMACION
February 2019
A 'Common Food Policy' Offers a Guide to a More Sustainable Food System in Europe. Could It Be a Model for the U.S.?
Civil Eats | LELA NARGI
February 2019
Studio esperti Ue: politica agricola diventi alimentare
ANSA
February 2019
Nouveau plaidoyer en faveur d'une politique alimentaire commune pour l'UE
Agence Europe
February 2019
Overarching EU food policy presented to Brussels: 'The first movers shall be rewarded by consumers'
Food Navigator | Flora Southey
February 2019
Irish Families Need Better Access to Healthy Food, Says World Expert
The Irish Times | Catherine Cleary
February 2019
IPES Food Launch a Common Food Policy
ARC2020
February 2019
'Geef onze velden geen meststoffen, maar kennis'
De Standaard
February 2019
Expertos exigen a la UE una política alimentaria común sin contradicciones
EFE | La Vanguardia
February 2019
Vers une politique alimentaire commune?
Euractiv | Claire Stam
February 2019
Fini la malbouffe et l'agriculture polluante: 84 propositions pour une politique alimentaire commune
La Libre | Isabelle Lemaire
January 2019
L'Union européenne reste dans une approche low cost de l'alimentaire
L'Echo | Interview Olivier De Schutter
December 2018
Gutes und hochwertiges Essen für alle
Wiener Zeitung | Olivier De Schutter & Thomas Waitz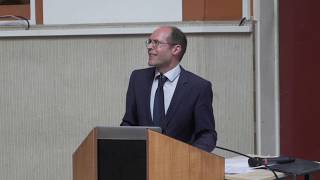 October 2018
Une Europe agroécologique est-elle possible?
IDDRI | Olivier De Schutter
May 2018
As CAP Reform Enters Familiar Cycles, a Common Food Policy Offers a Plan B for the EU
ARC2020 | Olivier De Schutter
September 2017
A Food Policy for Europe
European Green Journal | Olivier De Schutter
February 2017
Time to put a Common Food Policy on the menu
Politico | Olivier De Schutter & Carlo Petrini